February 25, 2018
On the Docket
(In order of discovery this week)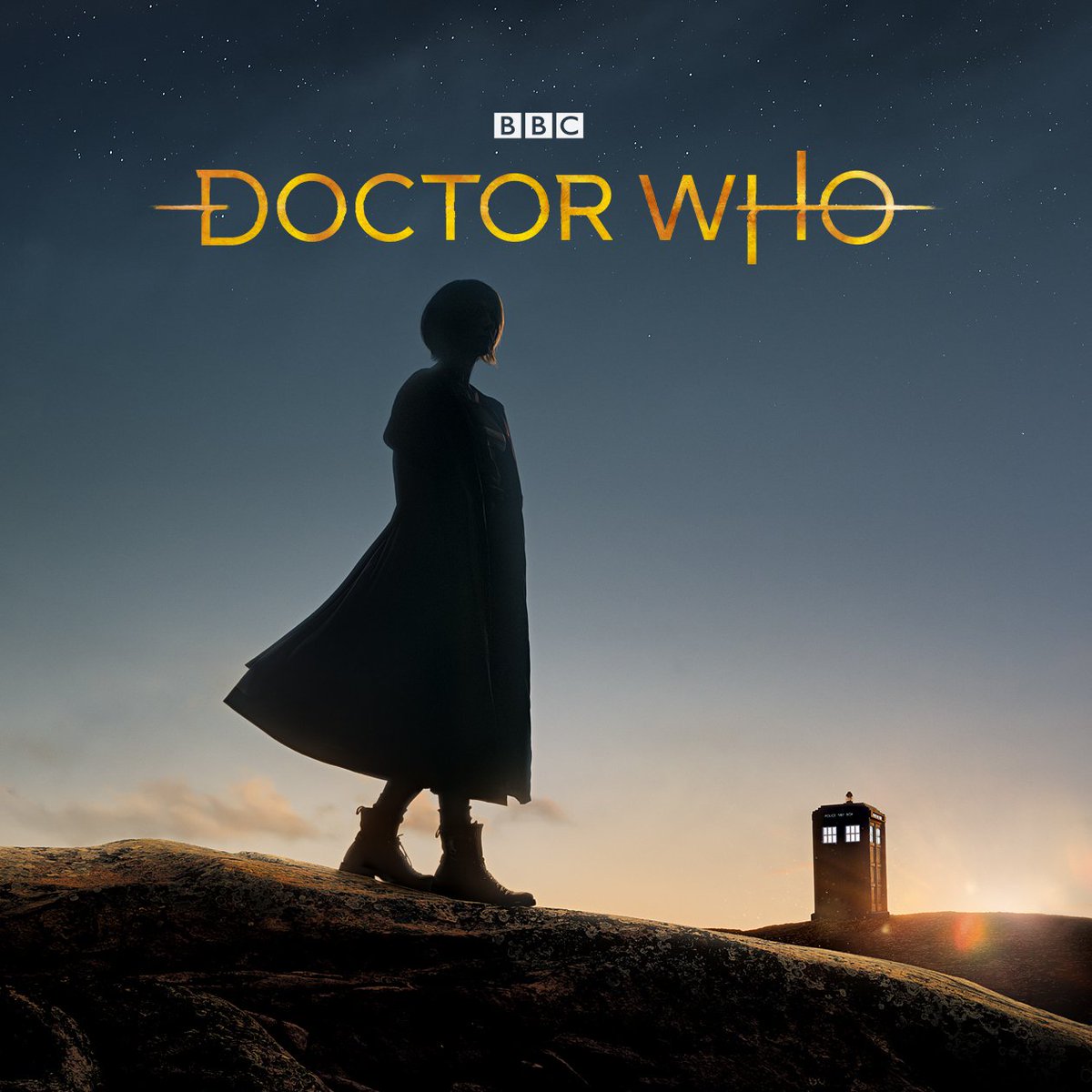 Series Eleven of Doctor Who has a new logo and look. – [BBC/BBCA]
Dragon Con has selected Literacy Action Inc. as their official charity for 2018. – [Dragon Con]
Lost in Space is coming back to television once again, this time on Netflix. – [YouTube]
Solo: A Star Wars Story tie-in comics and storybooks have been revealed. – [StarWars.com]
Joss Whedon has bowed out of the Batgirl movie. – [THR]
Sharknado 6 is going time traveling. – [BloodyDisgusting]
Keith DeCandido continues the 4-Color to 35-Millimeter: The Great Superhero Movie Rewatch with the mutants of the new millennium: X-Men (2000). – [Tor.com]
Into The Chronic Rift
The Chronic Rift: Episode 007 – Disco Isn't Dead
The first season of Star Trek: Discovery is in the books and enough time has passed that we can have a spoiler filled discussion of what worked and what didn't. John and guest, writer Julio Angel Ortiz, get into their favorite moments, episodes, and characters as well as discuss the fan reaction to the new series overall. In addition, they offer their suggestions for a second season in 2019.
The Batcave Podcast: Episode 68 – "The Entrancing Dr. Cassandra"
It's the penultimate episode of the series and it seems to lack any spark or energy to it despite featuring Ida Lupino and Howard Duff as alchemist Dr. Cassandra and her groovy husband Cabala. That alone should make it exciting, but then add Batgirl in the Batcave and a prison break featuring six of the villains from Batman's Rogue's Gallery and you should have a classic – and yet, nothing. Joining John to discuss an episode that's only thing that makes it stand out is the sexual innuendo is writer/editor Jim Beard of Gotham City 14 Miles.
The Hornet's Sting: Episode 13 – "Freeway to Death"
The Hornet and Mike Axford teaming up?  How is this possible?  When Britt orders Mike to work with the Hornet in order to bring down a construction racket, Mike has his own ideas that could threaten his life.  John and Jim are in agreement that this is a "Must Watch" episode, but they're not entirely sure why.  Is it the appearance of Jeffrey Hunter?  Is it the Black Beauty versus three bulldozers?  Is it the Hornet Mortars?  Is it the Hornet and Mike working together?  Take a listen and maybe you can help them figure it out.  Also, the two take a moment to talk about the late Van Williams and his legacy of The Green Hornet.
Generations Geek: Episode 46 – Treknology
Science fiction writer Scott Pearson welcomes astrophysicist Ethan Siegel to discuss science and Treknology, his new book about how the technology of Star Trek compares with what we have now and what we could develop in the future. Plus, Ella reacts to the surprise at the end of Star Trek: Discovery's first season finale.
The Weekly Podioplex: February 20, 2018
The Chronic Rift is looking for reviewers for games, video games, books, podcasts, comic books, and music. If you're interested contact us at the website or via Facebook Messenger.
The Watchlist
Current – (Most on hiatus for sweeps and the Olympics)
The Good Doctor
Supergirl
The Flash
Black Lightning
Arrow
Marvel's Agents of SHIELD
Blindspot
MacGyver
Legends of Tomorrow
Star Wars Rebels
Waiting room
Designated Survivor (returns February 28)
Timeless (Season Two premieres March 11)
The 100 (Season Five premieres April 24)
The Orville (Season Two premieres Fall 2018)
Doctor Who (Series Eleven premieres Fall 2018)
The Good Place (Season Three premieres 2018/2019)
Game of Thrones (Season Eight premieres 2019)
Star Trek: Discovery (Season Two premieres 2019)
Catching up
Madam Secretary (via CBS All Access)
Backlog
Marvel's Inhumans – Episodes 5-8
Movie Night
This week
Feb 16 – Black Panther – (Marvel Cinematic Universe Phase III, Chapter 6)
Visually stunning and powerful. A magnificent entry in the Marvel Cinematic Universe. – 8.5/10
Upcoming
Mar 9 – A Wrinkle in Time
May 4 – Avengers: Infinity War – (Marvel Cinematic Universe Phase III, Chapter 7)
May 11 – Life of the Party – (A close friend of mine was an extra with significant camera time on this project)
May 18 – Deadpool 2 – (X-Men series #11)
May 25 – Solo: A Star Wars Story
Jun 15 – The Incredibles 2
Jun 22 – Jurassic World: Fallen Kingdom
Jul 6 – Ant-Man and the Wasp – (Marvel Cinematic Universe Phase III, Chapter 8)
Jul 27 – Mission: Impossible — Fallout – (M:I #6)
Oct 5 – Venom – (Sony Spider-Man Universe revival)
Nov 2 – X-Men: Dark Phoenix – (X-Men series #12)
Nov 2 – Mulan – (Disney live-action remake)
Nov 16 – Fantastic Beasts: The Crimes of Grindelwald – (Fantastic Beasts #2, Harry Potter #10)
Nov 21 – Ralph Breaks the Internet: Wreck-It Ralph 2 – 11/21
Dec 14 – Spider-Man: Into The Spider-Verse – (Sony Spider-Man multiverse)
Dec 21 – Aquaman – (DC Extended Universe #6)
Dec 25 – Mary Poppins Returns
Future
Feb 2019 – The New Mutants – (X-Men series #13)
Mar 2019 – How to Train Your Dragon 3
Mar 2019 – Captain Marvel – (Marvel Cinematic Universe Phase III, Chapter 9)
Mar 2019 – Dumbo – (Disney live-action remake)
Apr 2019 – Shazam! – (DC Extended Universe #7)
May 2019 – Avengers #4 – (Marvel Cinematic Universe Phase III, Chapter 10)
May 2019 – Aladdin – (Disney live-action remake)
Jun 2019 – Gambit – (X-Men Series #14)
Jun 2019 – Men in Black Untitled – (Men in Black #4)
Jun 2019 – Toy Story 4
Jul 2019 – Spider-Man Homecoming #2 – (Marvel Cinematic Universe)
Jul 2019 – Top Gun
Jul 2019 – The Lion King – (Disney live-action remake)
Jul 2019 – Terminator sequel – (Terminator #6)
Aug 2019 – Artemis Fowl
Nov 2019 – Wonder Woman #2 – (DC Extended Universe #8)
Nov 2019 – Frozen 2
Dec 2019 – Star Wars: Episode IX
Dec 2019 – Wicked
Jul 2020 – Indiana Jones #5
Jul 2020 – Minions #2
Night at the Theater
This week
Rent at The Fox Theater in Atlanta
Coming soon
None
Literary Pursuits
Currently reading
Ms. Marvel, Volumes 1 and 2 (via Kindle Unlimited) – 4/5 for each entry.
Reviews
None
On the Virtual Air
Notes
None
Spotlight
None
Adventures in Creative Criticality
The Timestamps Project
This week's review is the Twenty-Second Season review, and next week beings The Trial of a Time Lord with The Mysterious Planet. I'm hoping this gets better.
Upcoming Podcasts
I visited RetroBlasting HQ on last week. We discussed toys and Doctor Who. – [YouTube]
The 42Cast released our discussion on the state of geek fandom. – [42Cast]
I plan on visiting the 42Cast again in the near future to discuss Star Trek.
Upcoming Appearances
Aug 30-Sep 3: Dragon Con 2018
Until next time, enjoy the journey.